February 7th, 2012
WINNER ANNOUNCEMENT!
Congratulations to Amanda Seymour (Momma Seymour) who wins the $15 Amazon GC and Jennifer Leeland who wins a download from my backlist.
Thank you to everyone for visiting and telling me about your pets. I loved reading your comments. Look for another blog hop next month.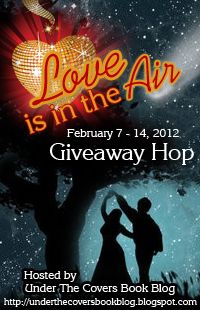 During the last few days I've been pondering my post for the Love is in the Air blog hop, hosted by Under the Covers Book blog. My name is Shelley Munro, and I'm an author. The obvious thing would be to tell you about my upcoming February releases Eye on the Ball and Cat Burglar in Training. See the pretty covers on the side—no!
I don't want to bore you with promo. Back to pondering…
Then along came Bella, our rambunctious puppy, in an entirely rambunctious mood. She barked at me as she does whenever she wants to play. She's a stubborn wee puppy and the word "no" doesn't seem to work with her. If she wants a cuddle, she'll wriggle her way past my laptop. I can be typing away, lost in my latest story when suddenly a puppy plops on top of the laptop.
Bella is our second dog. Our first dog, Scotty passed away a few years ago, but she also had an endearing manner. Scotty was complaining at me one day while I was writing. She wanted to go for a walk, and I wanted to finish my scene.
"Right," I said. "If you're not going to behave, I'll write you into my book." And so I did. I added a talking dog to my scene, fully intending to take it out later. But Killer, the talking dog (Scotty) made herself at home, taking over the story. I ended up keeping the scene and my Talking Dogs series was born.
This is Bella. Her brown ear normally stands up and her white ear flops, giving her a comical appearance. She digs holes in the garden and chews up all her toys. Her favorite toys are cardboard boxes and strips of fabric. She rips them into little pieces and makes a mess, but she makes me laugh. Despite her naughtiness, she's very cute, and we can never stay angry with her for long. There is nothing better than a puppy greeting after a crappy day at work.
CONTEST: Tell me about your pet or pets. If you don't have a pet invent an imaginary one. Would you like a purple dragon with green spots? A werewolf? A pixie or a fairy? A turtle? A spider? A cat or a dog? Or something else?
I'm giving away a $15 Amazon gift certificate to one commenter while a second commenter will win an ebook download of their choice from my backlist.
All you need to do to enter the draw is answer my question about pets in the comments section. Winners will be chosen and notified by email after 11.59 pm on 14 February. International entries are welcome.